Something I want to get more efficient at is using body fat for fuel vs. quick carbohydrates.  Why?  As humans, we were designed to burn fat for fuel.  I read this article by Mark Sisson explaining that exact concept (which was recommended by Mama Pea).  I have definitely known about this concept before but always put it in the corner & buried it & said "I'll look more into that later…." and continued on running miles & miles, near my maximum heart rate.  But I guess I have just been reading more and more on this critical fat burning zone plus how strength training & lifting weights will change your body shape better than just doing straight cardio.  Depending on your source, your fat burning zone is usually 60-70% of your maximum heart rate.  For me, this puts my heart rate in the 130s.
But I say to myself, "Self, but you're a runner & your running workouts kick your butt.  You know when you struggle at the end of your hard runs your heart rate is in the 170s!"  And this is true.  Especially during racing or the like when you're working near your maximum heart rate.  Your body is most definitely not burning fat…when your body is under that kind of stress, it's taking sugar/carbs for fuel.  Despite all my running as of late, this explains why I haven't seen as much ab definition as I would like despite my grueling ab workouts….I feel a 6 pack under the fat…it is there!  Now we just have to work on showing it off.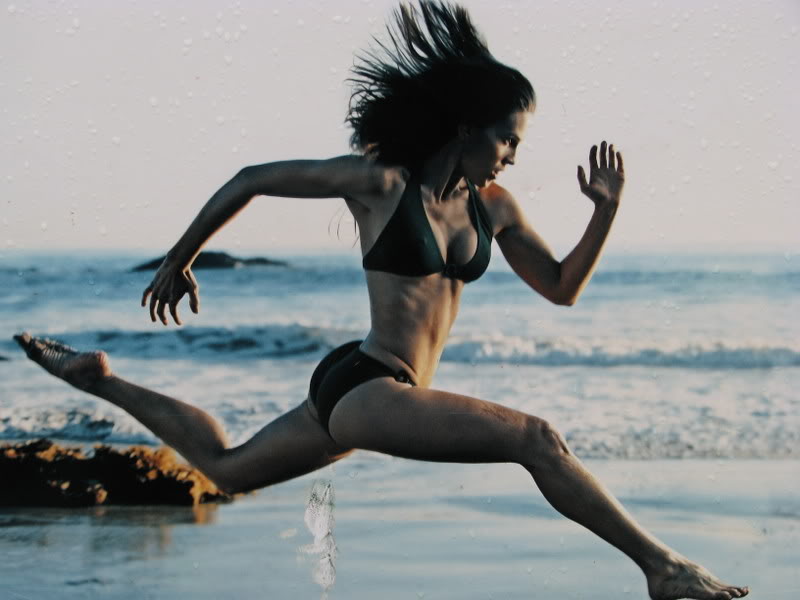 (source)
If you are a runner & determined to start burning fat as fuel, check out this article by No Meat Athlete.  Basically, you have to train your body to run while keeping your heart rate in this fat burning zone.  I would maybe like to try this someday but not anytime soon…just because I think it would be very frustrating for me to go back to slower paces and re-train by body…I don't have that kind of patience right now…maybe soon though!
So what's MY plan? Well after my half marathons are over next month (which I may not be able to make due to moving…that would suck), I plan to do bikram yoga (aka hot yoga) and lots of strength training & weight lifting.  Women fear weights but weight lifting will not make us look like a man!  It is the way to change our bodies & look smokin' for summer.  You can check out this quick 10 minute strength training routine by Jackie Warner, and she also explains in the video how you need strength training to make your body change & look hot.  As far as running, I will continue to run but maybe only twice a week.  And of those runs, 1 will be sprints…sprints are a great way to burn fat!!
And oh yes, summer bodies.  Just some inspiration…although I've said "getting fit for summer" many times, I think our mantra should be "FIT FOR LIFE!"  Reach your goals & maintain them
(source)
Another theory for fat burning?  And this will probably be very controversial but I learned it from a lecture by John Douillard, an Ayurvedic practitioner, through Nutrition School.  He suggests to cut out the snacking and instead eat 3 big meals a day…possibly even just breakfast & lunch and skip dinner sometimes.  When I listened to this lecture a few months ago, it made perfect sense.  Humans didn't always have food accessible to snack on & thus we used to be much more efficient fat burners back in the day.  The "6 meals a day" theory has been around for so long and so many people have smaller meals but more frequently…including myself!  But I've been trying to incorporate this theory into my life to eat larger meals at breakfast, lunch & dinner to try to get my body more efficient at burning fat in between meals.  If you think about it, how does your body learn to burn fat if you are constantly giving it food to burn?…it IS hard to do, especially if you have been more of a snacker type like myself but it is getting easier (on days that I successfully follow it…)
So anyways, I went to burn sugar today…HA!  Well kind of…today was speed work day for half marathon training.  My max heart rate was 165, which surprised me, as it's usually in the 170s for speedwork days!  And I was very happy that during my short rest intervals, it got back down into the 120s-130s–perfect fat burning zone!  My sprints were 3 x 1600 @ 8:00-8:06 pace and 2 x 800 @ 7:47 pace.  I covered about 5 miles total for this workout.  Maya and I also completed a 2 mile fat burning walk this morning

Pre-workout breakfast was oatmeal with hemp seeds, applesauce, & cinnamon, all mixed in.  I forgot how good applesauce is when you mix it into oatmeal with some cinnamon…yum!  You know what I love?  Chunky applesauce mixed into oatmeal…now that is my favorite.
Post workout lunch included a protein smoothie (almond milk, Tera's whey, peaches, banana, maca powder, & kale) & a salad with mixed greens, sardines, & pickles.  I forgot I had pickles in my fridge!  So I had to throw some on my salad.  Some people would probably think this is a gross combo but I loved it.  And I think sardines are awesome but some people hate them.  One time I was buying them at Trader Joe's & the guy at the check out made fun of me asking if I was a senior citizen or something…HA! I guess the seniors love their sardines for their joints!
Look at my fat burning machines below:
What is your favorite type of exercise?  For me, definitely yoga, ashtanga preferred
Do you have any weird food combos that gross other people out?  I wouldn't be surprised if my sardine & pickle salad grossed you out…